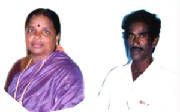 Sundararao was first brother of Dr. seshagirirao. Residing at Gollalavalasa, Village,his wife named, Damayanthi,is a house wife and they have one son and three daughters. He is a business man having Iron & Hardware Shop at Narasannapeta.first daughter 'vijayaprabha' married to simma Bhagavan das of Krishayyapeta -srikakulam mandalam. 2nd one is son Dr.Ravimohan BHMS married 'Dr.varudu Swathi -BHMS of Aldu village , are living at Rajamandry . 3rd one 'Syamala' married to Menda Madhavarao of Achyutapuram .4th one 'Vimala' has love marriage with Goddu Satyam of Gollalavalasa village , are at Hyderabas with some private jobs.
Address :
Sundararao,Vandana; Gollalavalasa (post&NativePlace), Polaki(Mandal)Srikakulam(Dist).

He died on 07-06-2008 due to some family problems.